Nelscott Manor - Lincoln City, OR
Upscale & Private accommodations on the oceanfront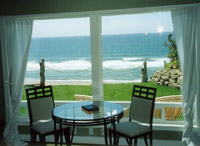 The Nelscott Manor was thoughtfully planned for luxurious, quiet, and relaxing retreats. Exclusive with only 5 Oceanfront - Jacuzzi suites, so you can truly get away from it all.
Awake to gorgeous ocean views and be lulled to sleep by gentle waves washing ashore. With breathtaking sunsets in the summer and powerful storm watching in the winter The Nelscott Manor offers so much more than "just another motel room."
What our guests have to say …

"Thanks for all the details that make a room comfortable. You have a great eye for style! We have moved you to the top of our list of places to stay."
– Leslie & Jon
"I don't think we could have spent our first week as husband and wife in a more romantic place. I think our favorite thing was watching the sunset from the Jacuzzi tub!"
– Josh & Kandis
"Everything was perfect. We ordered takeout from a local restaurant because we didn't think we could get a better table than the one on the deck of our suite — we were right!"
– Amy & Dan
Our Lincoln City, Oregon oceanfront location also includes things like direct beach access, spectacular ocean views and a quiet residential setting so you can relax and enjoy a leisurely vacation. These private beachfront suites include beachfront patios and kitchens, perfect for spending time with friends and family over a delicious meal!

Well behaved children 12+ years old welcome

For more information about The Nelscott Manor on the oceanfront in Lincoln City, OR,
please call 1-800-972-6155 or email us at info@onthebeachfront.com
The Nelscott Manor is NON Smoking, NO Pets, & Children 12+ years old are welcome.